So, I generally don't have anything too bad to say about Microsoft.  I use their products when I have to, I go Open Source when it's available, but I have to admit, I'm pretty darned impressed with Windows Live Writer.
Despite the fact that this is the first time I've used it, I see no reason to continue using Firefox Scribefire or trying like crazy to get OpenOffice.org's blogger add-on working.
This is basically a test to see what the functionality of the thing is and, well, so far, so good.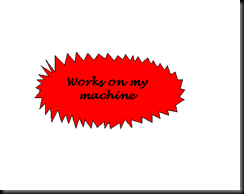 Pictures work.
Links (even self-referential ones like this one) work.
This is basically the <gasp!> moment for me.  You can import maps really easily.  So I could, like, show you guys where I bike to work every day.
Good form, Microsoft!